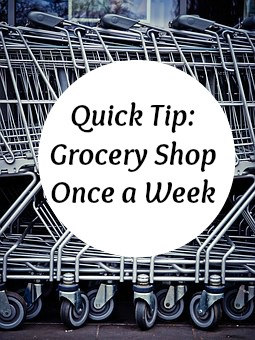 Looking to save time & money?
Then I have a quick tip for you: grocery shop once a week!
A typical scene at the grocery store when I am checking out goes a little something like this: I pull up to the check out line with a cart full of groceries, a man with 3 items in his hands steps behind me, takes a glance at my cart with wide eyes and quickly dashes to the nearest available line.
I often feel like I'm the only one in the store with more than a dozen items in my cart. Everyone around me has just a few items in their basket. This leads me to believe that many people are shopping more than once a week. (Or maybe they are simply living off bread, ice cream and orange juice.)
Shopping once a week takes planning and (obviously) takes time, but it also saves money and time.
One weekly trip to and from the store for a 45 minute to 1 hour shopping trip is a better use of your time than multiple trips to the store for 10 to 15 minutes.
One weekly trip to the store keeps you focused and prevents impulse buys and extra unnecessary spending.
Grocery shop once a week, save time and money and make your life just a little less busy.
Extra tips
If you want to shop just once a week there are 2 things you will need to help you accomplish this goal.
You will need a meal plan. Read about 5 reasons to meal plan here.
You will need a grocery list. Learn how to organize your grocery list by categories here.
Need some simple meal ideas? Check out this post.
What about you? How many times do you grocery shop each week?
Until next time,
Charissa
For more quick tips, read here.