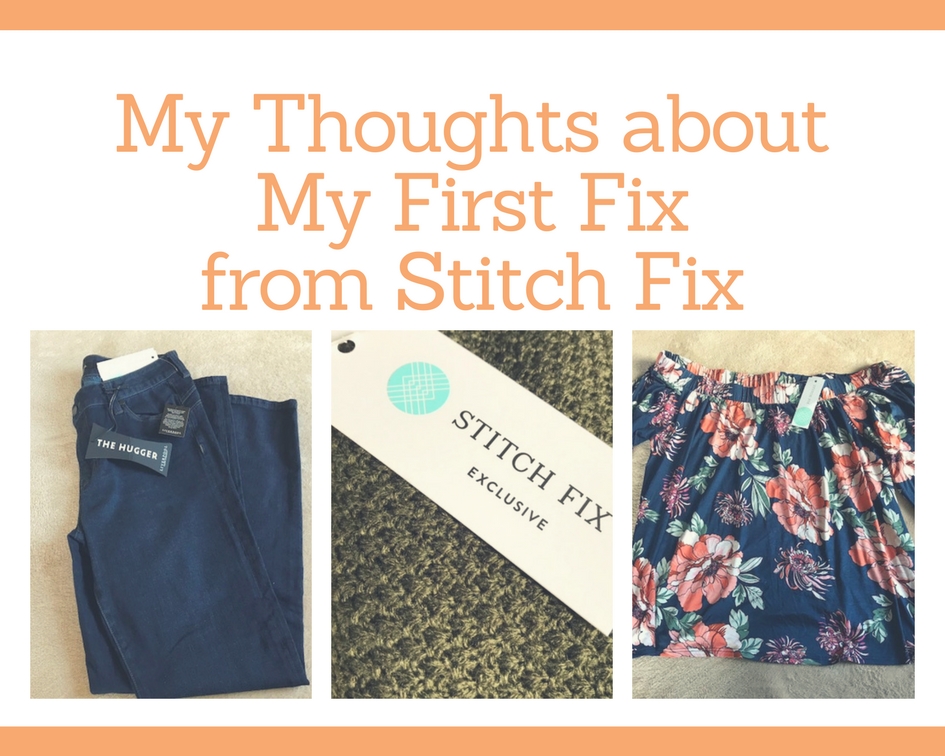 I have been curious about Stitch Fix for a very long time. I have read reviews of fixes from a number of people in my life and from a good number of fellow bloggers. My hesitation has always come from the fact that their prices always seems to be above my comfort level. I am definitely a girl who likes to shop for frugal finds saving money where and when I can. My favorite places to buy clothing includes second-hand shops such as thredUP , Schoola , and Swap.
Stitch Fix is not second-hand, but I was up for trying something new. When Stitch Fix decided to waive their $20 styling fee for a limited time I thought, "Here's my opportunity!". Each fix always comes with a styling fee. (The $20 is applied as credit towards anything you choose to keep from your fix.) Since this fee would not be included in my fix I knew I could shop without  pressure to buy anything.
My Experience
Last week I received my first fix, and I liked the look of their packaging.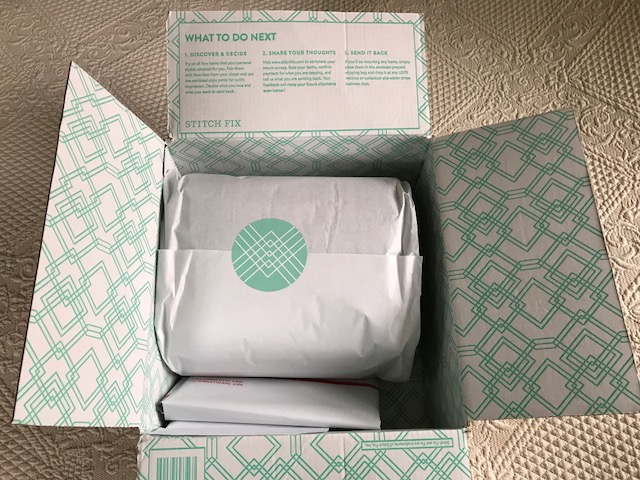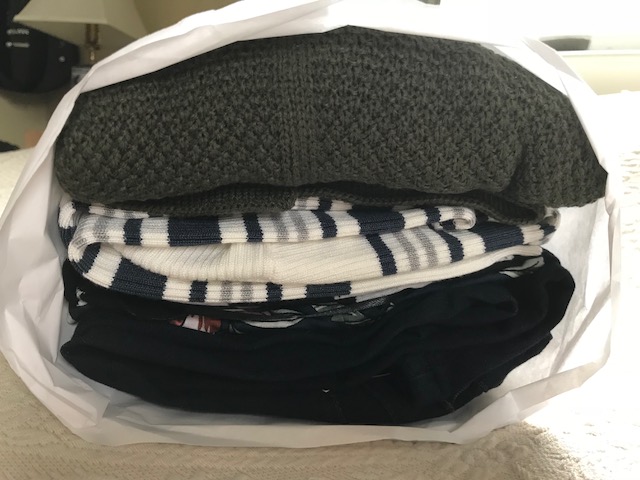 You receive 5 items. These were mine: 4 tops and 1 pair of skinny jeans.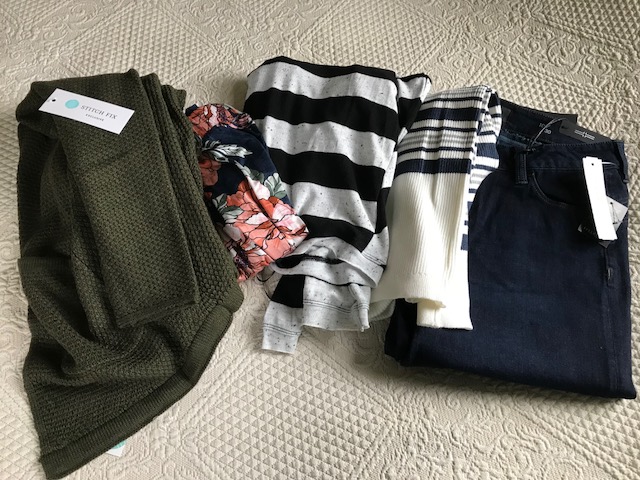 My favorite of the 5 items was definitely the green cardigan. I loved the look, the style, and the price. It was the least expensive item in my fix at just $36. And I say just $36, but I really don't even usually pay that much for an item. (Have I mentioned I am frugal?!) I really did love the look, though, and I was considering keeping it until I noticed a snag or two in the weave. I could only guess that this open weave would continue to have pulls and snags if I was already seeing them, so I decided I didn't want to spend my money on this one.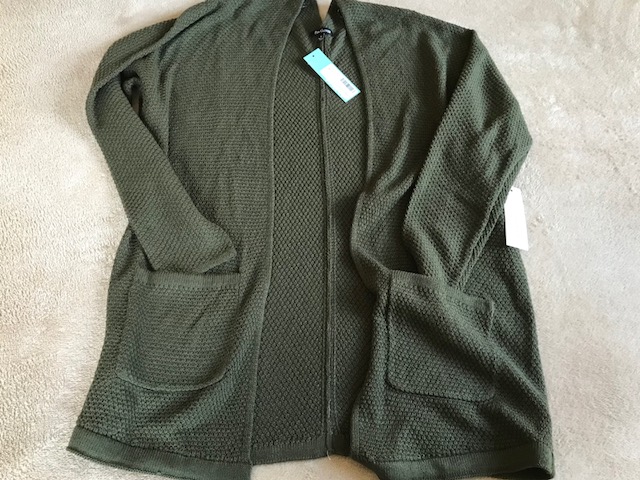 My least favorite item in the wardrobe was the v-neck striped shirt. I love stripes, but this shirt reminded me of something I would have worn in eighth grade which was many, many years ago. I was not drawn to this shirt in the least, and the $58 price tag was not appealing even if I had liked it.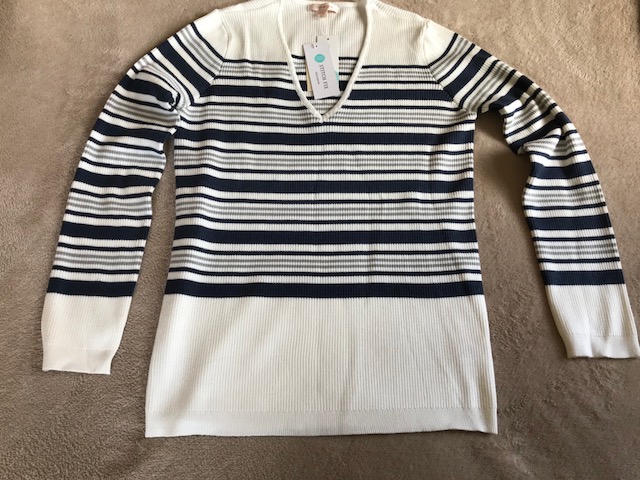 The other shirts were just OK. I don't think either of them were something I would normally choose. Although I am in favor of trying new styles, neither of these tops interested me after trying them on.
$48 off-the-shoulder top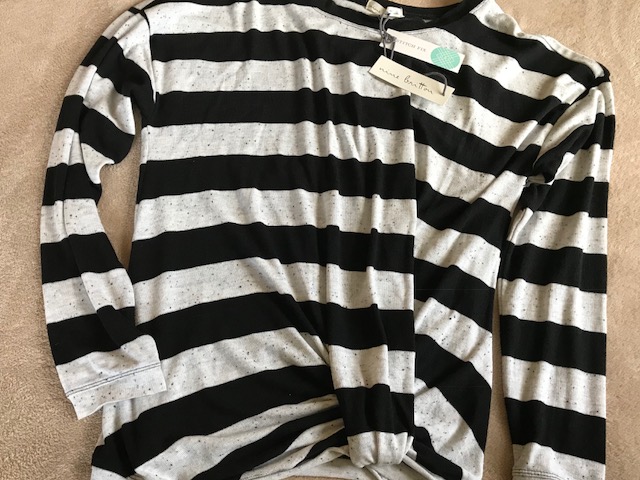 $44 striped top
The jeans were probably my second favorite item. They fit me well, and I liked the style and dark wash. What I couldn't wrap my mind around was the price. These jeans were $88. I know that you could argue a high price means great quality and try to convince me that they would last forever. I don't want to worry about my $88 dollar jeans, though. I prefer to find a more inexpensive pair, and wear them without a second thought.
In the end, I didn't choose to purchase any of the items from my first fix.
Final thoughts
Receiving the box was lots of fun. I didn't choose the items like I might in a traditional store (online or not), so there was a lot of fun in the unknown that occurred when the box arrived.
I think Stitch Fix is a good way to try items you might normally pass over. I was definitely given some things I wouldn't normal consider. Did I choose to keep them? No. But that doesn't mean that couldn't happen in the future.
I appreciate the fact that you can try the items on in the privacy of your own home with other items in your wardrobe.
You only have 3 days to make a decision. I share this because I almost forgot! Don't put the box to the side. Break into it right away, and start trying on the 5 pieces.
There is a Facebook group where people buy and sell items from their fixes. It is a good option if you miss the 3 day window or if you want to keep your whole box (which results in a discount), but you aren't interested in all the pieces.
You can order your fixes to come every 2-3 weeks, every month, every other month or every three months. You can also choose manually scheduled shipments if you simply want to order a fix when you desire. I chose that option.
Stitch Fix items are definitely more expensive than the clothing I typically purchase, but I am glad I gave it a try.
Even as I put the items back in mail (with the provided prepaid bag), I was thinking, "I might give this another try!". I actually received an email sharing another "fee waive" because I wasn't satisfied with my first fix, so now I will definitely give Stitch Fix another try! I will keep you posted!
Interested in Trying Out Stitch Fix?
If you're interested in Stitch Fix, check out my link! ($20 styling fee will be waived for first time customers!)
What about you? Have you tried Stitch Fix? What has been your experience with them? Share your thoughts in the comments below!
Until next time,
Charissa
Continue reading "My Thoughts about My First Fix from Stitch Fix"