I love to read. Recently I noticed that the numbers of books I am reading each month is decreasing as I work on growing my blog. I am ok with that because sometimes you have to let things go, but I am also still committed to making reading a part of my life.
Today I am sharing the 5 books I plan on reading in the next several months.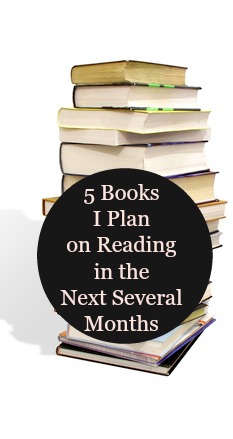 (This post contains affiliate links, so thenotsobusymom receives a very small commission if you make a purchase through the links.)
1. Queen Lucia & Miss Mapp: The Mapp & Lucia Novels by E.F Benson
I always appreciate a recommendation from Jennifer L. Scott who blogs at The Daily Connoisseur. Her last recommendation, Amy Snow, ended up being on my Top 4 Reads of 2016 list. I have found myself leaning towards nonfiction over the last several years, so I always appreciate a good fiction recommendation.
2. A Year of Living Danishly by Helen Russell
Tsh Oxenreider from the Art of Simple recommended and reviewed this book on her podcast a few weeks ago. I was intrigued by the concept of the book and by Tsh's support of it. I'm also drawn to books that are a type of "experiment" or challenge. This book fits into that category as does my next choice.
3. What Falls From the Sky by Esther Emery
This "experiment" type book was another recommendation from Tsh Oxenreider. I listened to one of Tsh's podcast episodes where she interviewed Esther Emery. Esther chose to take a year off the internet, and then wrote this book sharing her experience and lessons learned. The podcast got me very excited to read the book!
4. Wonder by R.J. Palacio
Does anyone else love reading children's chapter books?
This children's book has been recommended time and time again. Now it has been made into a movie that is coming to theaters in November of this year. I need to get reading! I think this will be a great one to read along with my older children, too.
5. The Magnolia Story by Chip & Joanna Gaines
I am a big fan of Chip and Joanna Gaines and their show, Fixer Upper, so I was super excited when I heard they had written a book. I am looking forward to reading their backstory and learning more about this creative, hardworking couple. I'm actually hoping to listen to this story because Chip and Joanna narrate it which would make for an even more personal storytelling experience.
I'm looking forward to enjoying these 5 titles (a nice mix of genres and topics) in the next several months!
What about you? What books are on your "to read" list? I would love to hear what you plan on reading, so please leave me a comment below!
Until next time,
Charissa
Continue reading "5 Books I Plan on Reading in the Next Several Months"